Dear Cherished Stakeholder,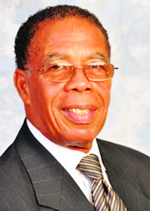 Hurray !!! SIC is fifty years.
It is my pleasure to wish you a peaceful, happy and successful New Year. As always, the turn of the year is time for reflection as well as looking forward.
It is with great pride and humility that I serve as Chairman of the Board of SIC Insurance Company Limited and have the distinct pleasure to serve in this capacity through 2012, the company's golden anniversary year.
As the nation's number one insurer, we have over the years achieved milestones worth celebrating. 2012 however, is a rather exciting year for us as we turn fifty, a time of maturity in the life of an organisation. In celebrating this great milestone under the theme "50 Years of Excellence in Nation Building through Insurance", we wish to express our gratitude to the founders who laid down their lives for this great institution. We also say thank you to our members of staff past and present for their dedication to service and hard work, and importantly to all able shareholders and stakeholders for your continued support, trust, commitment and contributions towards the steady development of SIC Insurance.
While we can certainly be pleased at the progress we have made over the past fifty years, we are equally aware of the enormous task ahead of us being the preferred insurer in the nation. The need to maintain our leadership role on all fronts in the industry.
Regardless the challenges ahead, the strength of our volunteer leadership and commitment to serve the needs of our dear country, cherished clientele, communities and our people will continue to be the hallmark of SIC Insurance in the years beyond.
On this note and on behalf of the Board of Directors, management and staff, I invite you all to join us as we celebrate our golden anniversary!

Sincerely,
Max Cobbina
Chairman of the Board of Directors
SIC Insurance Company Limited